The Guffaw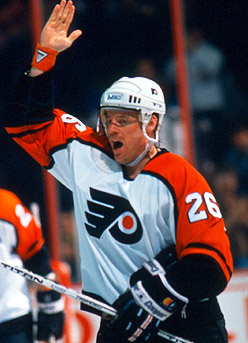 In 1986, Propp was looking for something to add more personality to his talent on the ice. He wanted to bring excitement and an aura of looking for something every time he played; a calling card.
Like all good ideas, Propp's was a pleasant surprise. During the summer of 1986, Propp was at a stand up show featuring Howie Mandel- you may know him from NBC'S America's Got Talent. During the show, Mandel played with the crowd, asking the audience if they would like to mess with the next comedian that came on stage, of course everyone said yes.
The joke was to try and throw the comedian off with a weird greeting instead of the standard applause. Mandel showed everyone the Guffaw, a movement with his right arm with a short left to right wave followed by extending his arm straight up to the ceiling. The audience had a blast, and Propp- a new idea.
What started off as a joke, became a trademark that defined a career.
Brian loved the "Guffaw" so much so, that every time he would meet a friend he would do the "Guffaw". What was a one off joke became a natural and funny greeting. And so the decision was made- Propp would use the guffaw as his trademark on the ice.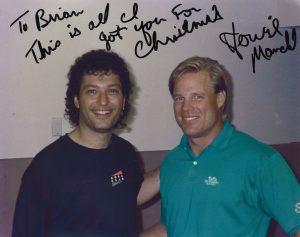 During the start of the 1986-87 season, Propp finally scored his first of the year. I had the usual crowd of players congratulating me after the goal, then as I broke away from the pack and headed to center ice, I put my right glove under my left arm and did the "Guffaw" as I skated toward center ice. I have always said the word "guffaw" as I was doing it. I had finally done the "Guffaw" and it became my signature mark after scoring which showed my personality on the ice.
Propp would use this opportunity to debut his "new move".
He even got a call from Howie Mandel gave his blessing to use the move, a moment that solidified Propp's hunch to add the expression to his game.