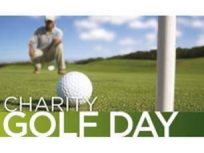 Tuesday, May 31st for the Kendall's Crusade One-Armed Golf Challenge
Thank you for joining us for our second annual Kendall's Crusade One-Armed Golf Challenge as a celebrity golfer! Please let me know if you do not plan to stay for the dinner/after party. We have to submit a headcount by Saturday 5/28 and I need to know if you will leave after the golf event ends.
Please join us for lunch at 12:30. If you can't join us for lunch, please arrive no later than 1:30. You'll be introduced at 2PM and on the course immediately following introductions.
Schedule of events is as follows:
12:30 PM – Registration Opens/BBQ Lunch is served til 2P
1:30 PM – One-Armed Golf Clinic (Get some tips before you play!)
2:00 PM – Celebrities are introduced/Tournament Begins
5:00 PM – Party Time including dinner, open bar and live entertainment from the Tim Williams Band
Our event is this Tuesday, May 31, 2021 at Whitemarsh Valley Country Club ( 815 Thomas Road, Lafayette Hill, PA 19444). It's a 9-hole scramble where everyone must play one-handed!
We are so grateful that you can lend a hand (and an arm!) and play with a foursome at the Golf Challenge. On behalf of Kendall's Crusade, thank you in advance and we can't wait to see you on May 31st!
Sincerely,
Cindy Webster
610-299-7251